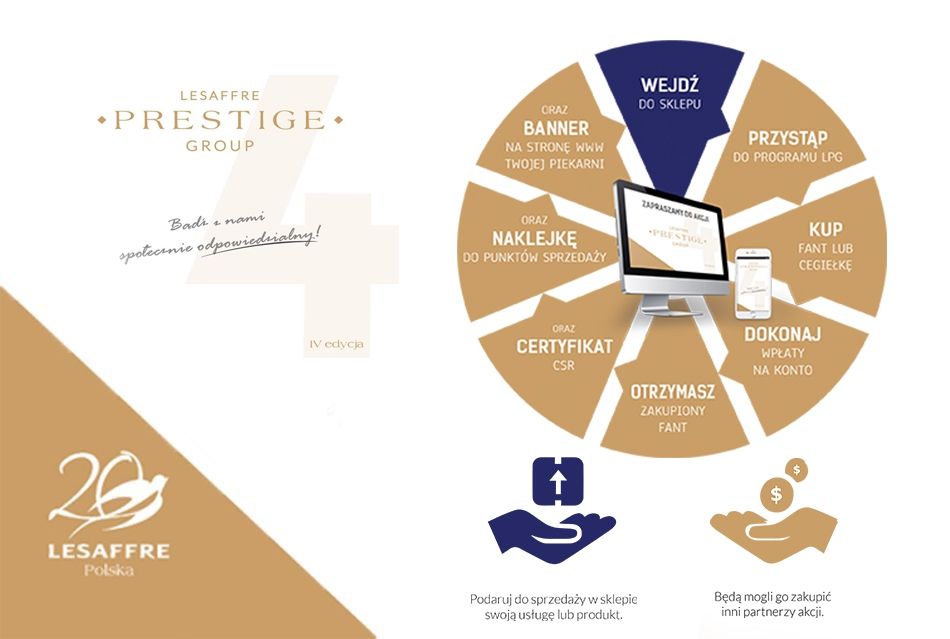 KNEADED DREAMS with Lesaffre Polska
The fourth edition of the Lesaffre Prestige Group campaign, promoting the idea of Corporate Social Responsibility on a daily basis, has been taking place since October. We invite all bakers and confectioners from all over Poland to actively participate in the campaign in order to engage employees and acquire new loyal customers.
The theme of the 4th edition of the campaign is "Kneaded Dreams", because the establishment of each company is preceded be a dream and its creation begins with values ​​that become the foundation passed on to Employees and Customers. By taking part in the campaign you have the opportunity to obtain attractive prizes and exceptional industry distinctions in the form of "Swallows of Responsibility". It is also a platform to promote your activity. An additional, immeasurable, but very important "reward" is the satisfaction arising from the support given and the priceless gratitude of those in need, i.e. children and adolescents with cancer - the beneficiaries of the Fulfilled Dreams Foundation, which is the beneficiary of the action in this edition of the campaign.
The new thing of the 4th edition of the campaign is an online store with prizes, handed over by well-known, popular and renowned people, which can be bought at any time or used as a Christmas gift. In the shop you can also pay using "LPG donation certificates", thanks to which you help sick children. Each payment made in the store is transfered directly the foundation's account.
Our store is an additional, convenient and voluntary form of support for the Fulfilled Dreams Foundation. You can also become socially responsible as we do. All you have to do is take one of the three steps:
Go to the store and buy a chosen item for yourself or for a gift.
Go to the store and pay for the chosen "Fulfilled Dreams donation certificate".
Offer your service or product for sale in the store to the other partners in the campaign.
Invite your employees and clients to buy in the store. In appreciation for making a purchase in our store you will receive a CSR certificate, a sticker for your retail outlet informing about your support and a banner for your website and social networking site.
HELPING IS SIMPLE!
CSR must keep up with the times. Thanks to this store, you can join the campaign, support the foundation and promote your bakery or confectionery business. Everyone has dreams, but not everyone can fulfill them. Children with cancer need our support to be able to have at least some of their dreams fulfilled. We invite you to buy Lesaffre products covered by the promotion from your Responsible Supplier and actively use the functionality of the store with prizes and "LPG Donation Certificate". Let's think about the needy, especially now amidst the excitement of Christmas preparations by making a purchase in the campaign online store.
Visit today: www.sklep.prestige.lesaffre.pl
Thank you for being with us!
Małgorzata Pielok
Marketing & Business Development Manager Lesaffre Polska